The 20th China Strait Innovation and Projects Fair was held in Fuzhou from June 18th - June 20th and Vice Chairman of the CPPCC National Committee, Chairman of the All-China Federation of Industry and Commerce Gao Yunlong, Deputy Secretary of the Provincial Party Committee, Governor Zhao Long, Vice Minister of the Central United Front Work Department Xu Yusheng and other leaders visited Xiamen Pavilion.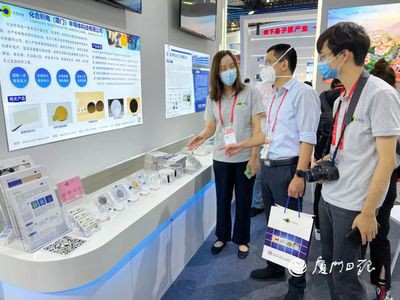 The exhibitors of Xiamen Pavilion covered the fields of marine economy, energy conservation and environmental protection, new generation information technology, biomedicine, machinery and equipment, new materials, etc. Several outstanding innovative enterprises focused on showing the cutting-edge technology products of Xiamen's strategic emerging industries development. Xiamen Daily and Xiamen TV News reported on it.
Among these high-tech product displayed, the wafer diamond and AIN products from CSMH are particularly eye-catching. The ultra-high thermal conductivity and high-quality heat dissipation performance make these products popular in 5G base stations, new energy vehicles, etc.
"Our products are basically used in scenarios with high heat dissipation requirements." Zhang Xing, the CEO of CSMH, told reporters. The thermal conductivity of a diamond wafer is 5 to 8 times than current traditional metal materials and greatly solve the problem of chip heat dissipation in some specific application scenarios. Zhang Xing gave an example: "In the field of new energy vehicles, the car system crashes occasionally, and the poor heat dissipation of the car system chip may be one of the reasons, and the new material with super thermal conductivity can greatly improve the efficiency and life of the chip", She added, "We hope to promote these latest R&D products in this fair "
With the development of power electronics, RF devices, optoelectronic devices and other product technologies in the direction of high power and small volume, the problem of "heat dissipation" has become a constraint on related industry technologies and product development. CSMH independently developed a diamond heat sink product with a thermal conductivity of 1000-2000W/m.k to solve the problems. This product mainly uses methane and hydrogen through the chemical vapor deposition process. A 2-inch diamond film is used as a heat dissipation material for the chip.
Undoubtedly, technological innovation is increasingly becoming a key factor in enterprise development. CSMH continues to use technological innovation and grow rapidly.
CSMH vigorously promotes the localization of semiconductor materials such as high-quality diamond wafer, diamond heat sink, GaN-on-diamond, and sapphire AIN. The growth face roughness of diamond wafer is within 1nm; The thermal conductivity of diamond heat sinks is as high as 1000-2000W/m.k, which are widely used in 5G base stations, lasers, new energy vehicles, new energy photovoltaics and aerospace; Our GaN-on-diamond epitaxial wafers stand out in the domestic market and the sapphire AIN are expected to make a qualitative leap in the photoelectric conversion rate of deep ultraviolet LEDs.