Carbon peak, carbon neutral upgrade as a national strategy, and closely related to every field. As the basic foundation and core of modern science and technology, raw materials, chips and devices are the cornerstone of the healthy development of the third-generation wide-gap power semiconductor industry, and also the guarantee of the implementation of the two-carbon strategic goal of the whole industrial chain. Diamond is one of the important materials of wide band gap semiconductor. What are the opportunities and challenges under the two-carbon policy?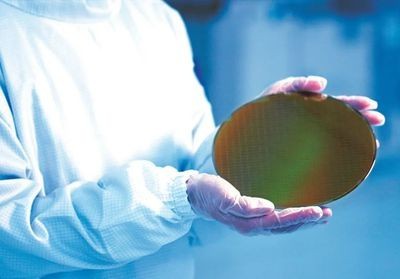 Diamond has excellent properties such as wide band gap, high thermal conductivity, high breakdown field strength, high carrier mobility and high temperature resistance, which will promote power electronic devices to improve efficiency, improve density, reduce size, reduce weight and reduce total cost. In 5G base station, optical module radiator, laser radiator, GaN Hemt and other applications to greatly reduce thermal energy consumption, showing great application potential.

At present, the average power consumption of a single tenant of a 5G outdoor base station is about 3.8KW, which is more than three times that of 4G base stations. The electricity cost alone may overdraft all the profits of operators. Using diamond as the thermal management material of 5G base station will greatly save electricity and truly realize green, environmental protection and low carbon by giving full play to the excellent heat dissipation performance of diamond.
GaN is widely used in the field of radio frequency and fast charge, but it produces a large amount of self-heating effect during operation, which increases with the increase of power, which increases the heat accumulation effect in the active area of chip while the output power is high. As a result, the output power density and efficiency of GaN devices deteriorate rapidly, which not only makes its high power performance advantage far from full play, but also generates a large amount of waste heat. Not conducive to low carbon environmental protection. Studies have confirmed that diamond with high thermal conductivity can significantly improve the thermal effect problem in gallium nitride based power devices. For the same power density, GaN on diamond can reduce the channel temperature by at least 40% compared with Gan-on-sic, which will increase the device life by about 10 times, and reduce the thermal energy consumption to a large extent.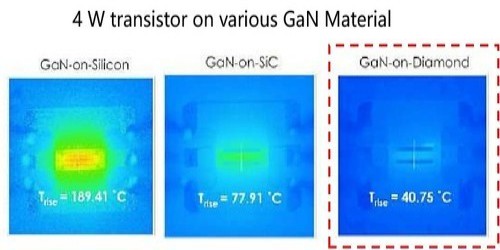 GaN transistors running on different substrates dissipate the same power, and GaN on Diamond has the lowest operating temperature
CSMH focus on the research, development and production of new advanced thermal management materials for diamond, after more than ten years of technical precipitation, the company now has diamond hot sink sheet (1000-2000W/m.k), wafer grade diamond (Ra<1nm), diamond coating (GaN) and other products and services. Giving full play to the characteristics of high efficiency and low energy consumption, diamond plays a positive role in social energy saving and emission reduction, and achieving the development goal of carbon neutrality. With the promotion of the dual-carbon goal, more and more fields are using diamond with better performance, which will significantly reduce energy consumption and improve energy conversion efficiency. At present, diamond has been applied in satellite communication, smart power grid, rail transit, aerospace, new energy vehicles and other hot emerging industries, becoming an important material basis for industrial upgrading. In the future, diamond with high thermal conductivity will be applied in more fields, which is of great significance.

In the context of dual carbon, CSMH requires itself to adopt the standards of ESG(i.e. Environment, Social and Corporate Governance), and takes low-carbon economy and sustainable development as its strategic goals. In manufacturing, the use of modern technology, effectively improve energy efficiency; Continue to innovate technology, use green energy, reduce carbon emissions; Use green electricity; Purchase equipment with carbon emission certificate to high quality standard in procurement, to support ecological and social benefit projects.